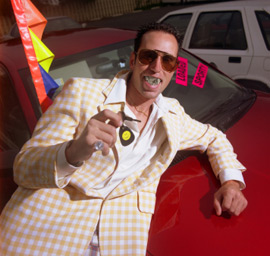 Today I have offered to take Stephanie's car(a 2007 Honda Civic si) to CarMax so that we can see how much cheese we can get out of it. I'm not super excited to have to deal with a used car dealer, but I have gotten a few suggestions that have said that if you're going to sell a used car, CarMax is the best all around bet. According to our the trusted source on the used car market, Kelly Blue Book, the car's trade-in value is a little over $16,000 which is a little more than she has left to pay for it at this point.
I'm not super-experienced at negotiating some car deals like my pops, Mr. Clarence G. Hupfer, but I think that I can hopefully get a good deal out of them….I hope. I'll update later on how the dirty deal goes down, wish me luck!
There's a party in my tummy!
On any given day the Internet can show you things that you never knew you might enjoy and of course sometimes it can show you things that you may never want to see again. I choose to focus on the first reason because I frickin' love the web and all of the possibilities, quirks, opportunities and whatever else comes along with it.
An example of why I love the Internet just happened today, so I thought that I would share. Somehow I stumbled upon this random blog entry and in front of me I saw one of the weirdest and most interesting YouTube videos that I've ever seen. It's a kids 'edutainment' video, similar to the big, purple dinosaur Barney of my childhood. Check it out below(or here on YouTube) and I dare you to say that it's not one of the more entertaining/scary things that you've seen on the web lately.
The couple to the left… is my father and step-mom. What's special about them?? A lot actually, but what is most impressive recently about their relationship is the fact that they were inspired by our blog! That's right, just recently we stumbled upon bartandshan.blogspot.com
Since they are such jokesters they also decided to make their website painfully similar to ours. In fact, the very first post is almost word for word exactly like ours, with a few adjustments just to spice things up a bit. I warned them that once you get a blog togther that means things are serious
Their tag line reads… "Telling our story ( hmm sound familiar?) but we don't think anyone is listening" Bart and Shannon, we are now listening… write on!!!
It's probably about time that we made our theme song more "professional" don't ya think?? Hope you enjoy the new tune because we absolutely LOVE IT(thanks Tim)!! Check out the new video on our reaction to our new and improved theme song…..you can also check it out over here on YouTube.
Stephanie is not the only love in my life, I also have a deep, van-love for my Hoopty that I bought before I headed to Mardi Gras about a month ago. Well, just like anything that I love, I want to make sure that the Hoopty is taken care of so I decided to clean her up a bit and take her in to get a quick checkup at the Ford dealership.
Hoooopty!
Here's a quick look at how the day with the Hoopty went down. You can also check out the video over here on YouTube.
That's right, despite what the weather looks like outside, the first official day of spring is tomorrow. So as of 12a.m. it will FINALLY be spring, regardless of the fact that it will probably be in the 20's with snow flurries. Just having the terrible label of winter (yuck) out the door, and spring (ahhhh) in will surely put a smile on my face
<-- see it really did! I can already start to smell the sweet flowers starting to bloom and the green grass covering the ground... hmmm I love this time of year!! Unfortunately after checking the 10-day forecast things aren't exactly looking up if ya know what I mean. Oh well, at least there is hope on the horizon right!? Bring on the Sun!!
Before I headed to work out I wanted to let everyone know that I am feeling great today, that I am getting a little hungry and that my butt is asleep due to these damn wooden Starbucks chairs. I guess that it's also kinda my fault since I've been sitting here for about 3 hours. Time to go get swoll – more soon.
p.s. I found Marc Andreesen's blog(founder or Netscape, Ning.com and others) today and I have already read some amazing stuff that he's written. The guy really knows what he's talking about and he seems really, really down to Earth. I'll meet him one day.
A while back I met up with a friend of mine who works for an advertising agency called Hirons here in Indianapolis. At Hirons she is constantly in need of talent for all types of ad campaigns that are ran everywhere from TV commercials to billboards to websites and who knows where else. While we were chatting I brought up the fact that I have always thought that Stephanie should go test the waters at a telent/modeling agency here in Indy and I asked her who she used when finding talent for the many projects that she works on. The first group that she mentioned was The Helen Wells Agency, who is based in Carmel, IN. She said that they do a lot of work around the area and that they'd be a great place to start.
That conversation happened over a month ago and for some reason last night I decided to check out Helen Wells' website and I quickly learned that they have open calls once a month and that the next one was actually the next morning(which was this morning). After a couple quick phone calls to Stephanie she quickly agreed on heading over to check it out and so that's just what we did.
We arrived to the open call right before 10:00am and before you know it we were getting ready to hear how we can possibly become the next big talent here in the tri-state area. After listening to 25 minutes of the basics of what to expect from here on out we handed in our info, a few pictures(that I printed off of Facebook) and now all we can do is wait for the next step in our ambitious pursuit – the highly anticipated call back. We'll get called back though, right? Maybe? Oh crap, keep your fingers crossed.
My laptop and I have been butting heads for many, many weeks and probably months due to the fact that it has been running really, really slow and has gotten to the point where I can barely get my day to day stuff done without throwing it out my car window. Luckily, I took the high road with the many frustrations that me and my constant companion have been dealing with by taking to the time to archive all of the files, etc. from the laptop's hard drive so that I could proceed to wipe out everything that has been saved, installed, hacked and created on it.
Well, the good news is that I'm back in business with a decent laptop(it's runnin' great…for now), it's not taking 25 minutes to pull up the Internet and probably the greatest result of getting it fixed is that Stephanie and I can start doing videos again. The videos that we put together are a great creative release from me and something that I really enjoy doing by myself as well as with Stephanie. Since I worked so hard at getting the laptop fired up today, I vowed to get at least one video up and ready by the morning, so here goes nothing.
This video is of a glimpse into the first birthday party of my two baby nieces, Reese and Riley – you can also check it out over here on YouTube if you can't see it below.
It's always fun to take a little trip down memory lane isn't it? Tonight I was looking through some old videos and I stumbled across a video I made way back last summer on my way to hang out with Ryan on one of our first "dates". It's so funny to think about the beginnings of our relationship and all of the crazyness that has preceded those early times. In this particular video I was actually on my way to be picked up in a chicken limo ( yes a chicken limo) that would then take me to a poison concert (Yea Bret Michaels!!). I can't believe that I almost made up an excuse not to go… What was I thinking?!?! Haha This night has got to be one of my favorite memories with Ryan. It's obvious that we were simply destined to be together.. I mean come on.. I was already making videos in my car before I even knew him… coincidence?? I think not!
Check out the video below or over here on youtube.