Tonight me and Stephanie were invited to grab a bite to eat at a very unique and interesting place down the road in Mountain View called uWink. There are 3 uWink restaurants that are all located in California and they all have one thing in common – no waiters.
You see, uWink has replaced the waiters that have always been a necessity in restaurants with LCD touch screens that not only let you order your food, but also let you play games by yourself, your table and sometimes that entire restaurant. These screens make for a very interesting situation because sometimes you're not talking at all while you're playing games by yourself, sometimes you're being super social and screaming like crazy as you're trying to beat the other people at your table and sometimes you're screaming across the room as you're trying to beat everyone in the restaurant. The games were a lot of fun and our tables game of choice was called uSketch, which is like Win, Lose or Draw on crack.

Inside the Mountain View uWink

Who needs a stinkin' waiter?
Overall the concept was pretty cool, but as we rode home both me and Stephanie wondered how the uber-techy restaurant would survive after everyone had already been there once to check it out. I mean, don't get me wrong, we had a lot of fun, but I doubt that I'll go back there any time soon just for there delicious food or fantastic drink specials. Its definitely fun going there with a group of people, but just be well aware that after the initial buzz of the place wears off and you all find yourselves playing single player tetris-like games on your touch screens, it can start to feel a little awkward. But, if you've never been there before then you should definitely check it out at least once.
One other thing that's pretty funny is that although you don't have waiters taking your orders, they still have to bring your food and drinks out to your table. Well, since they only know you by what you punched into your touch screen thingy, this also means that they have to call you by the name you enter in all night long – which can be quite entertaining. All I'm saying is that if you do end up checking out uWink, just be sure to tell 'em that Big Papa Pump sent you.
Here's a quick video introduction to uWink and what they're all about.
A couple of weeks ago, we asked a special favor of our friends and family. After putting up our Christmas tree we noticed that it was lacking just a little bit of personality. Sure we had all of the pretty ribbons, bows, and ornaments but we needed something to add that personal touch that makes a Christmas tree a "true" Christmas tree. Ryan, being the ingenuitive and creative mind that he is, decided that it would be a great idea to ask everyone to post some of their favorite pictures for us to add as special ornaments to our tree. We received a wonderful response from everyone and ended up with a wealth of fabulous pictures of friends and family to add to our tree.
We sat down last Saturday evening and put together our ornaments with construction paper, gluesticks, and ornament hooks. As Ryan and I envisioned, the pictures gave our tree just the right touch of love that it was missing. As promised, we made a video for you all to see our picture ornament hanging process and the beauty that you all have now had a part in adding to our tree. You can check out the video below or watch it over here on YouTube.
Tonight me, Stephanie and a few radical friends from Palo Alto are heading to a concert tonight at Oracle Arena in Oakland to relax, rock out and hear 4 great bands. The bands on tonight's bill are The Killers (awesome), Franz Ferdinand, Death Cab for Cutie (super awesome)and Jack's Mannequin (Stephanie says they're awesome).
Oracle arena is home to the Golden State Warriors NBA team and sits right next to the Oakland Coliseum, which is where both the Raiders and Oakland A's do their thing. Of course, it's also where we went with my niece Madison, my mom and my sister Angie to see Disney On Ice, which we had to make a video for.
Here's a video from each one of the bands that are playing tonight in case you've never heard of them or in case you want to get a feel for what we'll be jammin' to tonight.
The Killers – When We Were Young

Death Cab for Cutie – Soul Meets Body

Franz Ferdinand – Take Me Out

Jack's Mannequin – The Resolution

As winter brings the blistery cold, short days, and icy sidewalks there is one thing that both students and teachers alike look forward to; the snow day. Although only occurring on rare occasions, the mere hope for one single day of random freedom lingers on the minds of those within the school.
A few weeks ago, during a regular faculty meeting, our director announced the date of the "snow day" for the month of December. I couldn't believe what I was hearing… snow? In California?! Wait a second… I thought I came here to get away from that stuff. Luckily she went on to explain what exactly this "snow day" entailed. Apparently since it is still 65 and sunny here every single day (ahh yes be jealous) the school chips in to buy a truck-load of fake snow to be dumped right in the middle of the school parking lot for a day. This way all of the kids can have a chance to have their own snow day, just like the other kids in colder climates.
This past weekend, the snow day finally was here and all of the kids came decked out in their snow suits, snow boots, hats, gloves and mittens ready to brave the chilly snow. Ryan and I had to laugh when we saw the pile of "snow" mounded in the parking lot with a crowd of kids slipping and sliding on top. It certainly wasn't like what they make back in good ol' Indiana, but it served it's purpose. We had a great time digging around, making snow angels, and tossing the occasional snow ball at some unsuspecting toddlers. I think the little ones took the cake however, we were certainly the prime targets of every snow ball that was thrown.
It's safe to say that after one day of snow I have had my fill
I'll be good for awhile now until I have a slight craving for anymore, however, I think I might be forced to indulge on our trip back home to Indiana for Christmas. I hear it's a little bit colder there than it has been here. All of this warm weather and sunshine has turned Ryan and I into some kind of wimps when it comes to cold weather. You know that when 55 seems frigid you've basically lost your ability to adapt to cold weather anymore. Hopefully we won't be too shocked in a couple weeks. 😉
Last weekend me and Stephanie accomplished a pretty big milestone in our relationship – we officially put up our first Christmas tree together. Well, as I continue to stare at the newly added and and beautifully decorated symbol of holiday goodness that's now in our living room(Stephanie gets all the credit for this) I can't help to think that it's missing something. After thinking it through I realized that it's missing some of the more personal touches that I became so used to having on the Christmas trees of my childhood. Simply put, our Christmas tree needs a little bit of personality. A little bit of flair, if you will. Of course, this is where all of you awesomely fantastic people come in – we want to add each of you to our Christmas tree!
If you would like to help us add some flavor to our tree(and why wouldn't you?), here's what we'd like you to do:
Find a picture of yourself that's posted online somewhere(on Facebook, MySpace, etc.) that you feel is most representative of either you or your relationship with me and/or Stephanie. As always, the more hilarious/entertaining/embarrassing, the better.
Copy the location of the picture(should be something like 'http://facebook.com/mypic.jpg') and paste it into the comments below along with a quick description of why you chose it. Feel free to be as witty as possible.
We'll then save the pics that you post up, print 'em off and add them to our Christmas tree so that you can officially be part of our California holiday season.
After we start adding them to our tree, we'll shoot a quick video and show each of you the sweet, new pics that find their way into our living room.
We think that this will be a great way to add some holiday pizazz(yeah, I said pizazz) to our new home and first Christmas tree here in Palo Alto and I'm sure that you can all think of a few pics that might do the trick. Also, I'll add an example below in the comments in case you are still wondering what the heck I'm trying to get you to post. We're both looking forward to seeing what each of you can dig up – we think.
Ok, here are some of the amazing pics that have been posted so far:

I posted this one…a classic

I posted this one too. My sister, circa 1994. Will look nice on the tree.

From JD at my buddy Kirkpatrick's wedding…good times.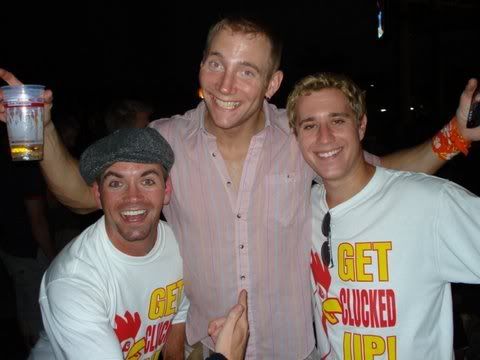 My good buddy, the one and only Mr. Zack Legend.

Me and JD boozin' in a Chicago alley.

More booze and more Chicago…plus Marcus P.

A small one, but you get the idea…my hometown ptown homies!

Ahhhh, Lake Cumberland in 2007. Those are all my bruthas from utha muthas.

Believe it or not, this is night that I met Stephanie(who's not included in pic)

Colts!

More Poison madness – me and Stephanie's first date…how romantic.

Stephanie, JD and her favorite person in Pendleton…NELSON!

Me, JD and the best hamburgers on Earth – the K-Burger.

Stephanie putting the smackdown on JD at Donnies. He deserves it, believe me.

Me licking JD's head and my man Kevin(Cooch).

Drinking games the first night meeting the Homer House crew in Palo Alto, CA. We were REALLY loud.

Me and Elise screaming and eating Andrew Young.

She deserved it, I promise.

Halloween Hillbillies…YES!

Stephanie=pilgrim. Elise=indian. Brandon=holding a cock?
Oh man, these are getting good…give me more if you've got 'em!
Well…not really. At least not out here in Palo Alto it isn't, and that is absolutely alright with me and Ryan. These past few months it has really started to sink in that moving out to California was truly a fabulous choice. There are many, many reasons why this is true, but one reason in particular is obviously the weather! The mere fact that as I type this, our friends and family back in Indiana are already battling the first few inches of snow this season is reason enough for me to shout for joy one more time tomorrow when I drive to work with the sunroof open and smile in the warmth of the sun
I'm not bragging…no…I'll get my fill of below freezing windchills and dirty slush when I'm home for Christmas in a few weeks.
Although it may not look like Christmas outside, it certainly looks like Christmas inside our cottage. I had been eagerly awaiting the day that Ryan and I went to pick out our lovely Christmas tree. We decided to go to the Palo Alto Kiwanis Club Christmas tree lot to find our beauty. On a beautiful sunny day, Ryan and I set out to find "the one". It wasn't long before we made out decision and brought home the lucky tree.
I decided to go with a red/silver/little bit of gold theme for the tree this year. Luckily Target supplied me with almost all of my decor and I think the tree turned out pretty nice this year if I do say so myself
Ryan and I had a great time decorating it too. We turned up some of Pandora's finest holiday music and spent the afternoon decorating and admiring our first Christmas tree together. It was pretty special and we're looking forward to many, many more years of decorating our tree together.
So even though it may still be around 70 degrees and sunny outside, I haven't lost one bit of my Christmas spirit! I absolutely love Christmas time and I'm even excited to go back to Indiana to have just a little bit of snow for Christmas…because I know that I'm coming back to sunshine when it's over
Check out the video below or over on YouTube to see how our tree-hunting/decorating adventure went: