Last night I decided to surprise Stephanie with some flowers (which I try to do on a regular basis), so I thought that it would be a great topic to shoot a quick video about. Hopefully we can do more videos like this that are based more around our relationship and what makes it so freakin' awesome. Of course, not all of it is easy, but the harder times are what makes you both realize just how great it is to have a relationship with someone that you truly love and want to be with for the rest of your life.  Yeah, it's pretty awesome.
Check out the video below or over here on YouTube and please let us know if you have any thoughts on the Powers of Flowers!
It's that time of year again.  You know, the time when you put off that stuff where you have to to read a bunch of numbers and add and subtract different boxes and lines… and then sit back and pray that you got it all right somehow.  Yea, that's what I think about when tax season rolls around.  Since I don't have good ol' dad to do my taxes for me this year, I'm intrusting the help of my friendly neighborhood H&R Block family to do the dirty work.
This coming Saturday, Ryan and I will be heading into the office to see what these ladies are really made of!  My lovely lady is Ms. Barbara Johnson her reasons for entering the CPA world are…
"I have always prepared my own taxes and assisted family and friend with their returns. I enjoy working with numbers because I found that I am good at it. I love working with the public. "
Here she is!  I think we'll get along quite nicely.
The lucky lady who will be helping out Ryan is Ms. Maria De Lourdes Richardson.  Heaven help her, she has no idea what's coming.  I hope she's ready to sort out 4 jobs in 3 different states worth of taxes that Ryan will be presenting.  Her reasons for entering the tax world are…
"Me encanta trabajar con clientes y ayudarles a entender las formas y el process de impuestos."
Oh goodness…ummm I hope that she speaks English too…
I'm sure that she and Ryan will have a grand ol' time, eh?
So there's the rundown on the tax day participants.  I'll be so happy when this is over, I hope…. Lets hope that I'll come out with a big fat check coming my way instead of sending one to the government… ugh that would be terrible. So, yay for taxes!! Whoohooo!! I am so excited
Now this is some exciting news! I'm so freakin' excited that I'm about to pee my pants, for realz! (if peeing your plants is cool, then you can call me Miles Davis)
OK, so I'm not really going to pee my pants (this time), but I am definitely getting excited about the fact that Stephanie and I are going to be leaving our cute, little cottage here in Palo Alto and will be making the big move up to the wonderfully awesome city of San Francisco this week! We're moving up to a HUGE, 3-level apartment that's located in the SOMA (south of Market Street) district, which is about a 20 minute walk away from my office. So, not only is it going to be a bigger and better place that's located in one of the most amazing cities in the world, but it's also literally blocks away from where I work so I'll be saving about 2 hours per day by not commuting from Palo Alto to San Francisco every day on CalTrain. Besides the obvious time that it's going to save me every day, it also saves me about $160 in cash each month since I won't have to buy a monthly train pass anymore.

The outside of our new place – what are we going to do with all this room?
Another uber-radicalicious part of moving up to the city is the fact that Stephanie and I are going to have a roommate now and he's going to be the best possible roomie that we could ever hope for. His name is Nic Engel and he has lived down the street from us here in Palo Alto since we moved in a year ago and ever since we first met him both Stephanie and I have both become really good friends with him. He's going to have the bachelor dungeon downstairs of our new apartment all to himself and he's currently trying to find the right type of dancefloor that he can install in front of his huge closet mirrors so that he can bust out his dance moves at any given time. Nic is definitely one of a kind and you'll be hearing much, much more about him as we start to blog all of the upcoming adventures that all 3 of us are sure to be having together.

We like to call Nic 'special'.
Well, that's about all I can tell you about our move for now, but we'll be updating you more about it as we make our way up to our new home in San Francisco. Yeah, I said it — 'our new home in San Francisco'!
Last night we had the pleasure of spending some time with a our dear friends from the Homer House here in Palo Alto.  In celebration of our friend, Shyam's Birthday we started the night off with some bowling and ended at the Old Pro for some drinks and bull riding.  We rolled a couple sweet and "highly" competitive games at the alley and I loved every minute of it.  You see, I don't like to brag or anything, but I was on the bowling team my freshman year of high school.  I know… pretty cool, huh?
So every time that I go bowling that competitive nature comes out in me and I get a little bit aggressive out there on the oily boards.  I also must admit that I really like to beat Ryan at sports and I know that it's almost a sure win every time that we bowl
Well, last night proved to be yet another opportunity for me to flex my bowling super star status and I beat Ryan in not one but two straight games…. the proof of my victory is clear in the photo.. im a bowling rockstar!
This has been our first official week of training for the San Francisco Marathon that we're running on July 26, which also means that today (Saturday) was the first 'long run' that Stephanie and I had to knock out together. You see, when you're training for a marathon you pretty much run some lighter, high-speed runs during the week (we ran all 3-milers this week) and you then put your legs to the test and get them prepped for some serious pavement pounding by running the higher distance 'long runs' on Saturdays. You then finish up the week with an hour of cross-training on Sunday, which means that you get some type of workout in that's not running. These workouts are usually something like riding a bike, playing basketball or even walking.
This week seemed to go pretty smooth as we were both already running on a regular basis, but just like our training program says, "This might seem easy now, but enjoy your rest now because you'll be wishing you had it in a few weeks". I guess that I should take their advice and just be happy with the fact that I'm not really killing myself yet and get mentally prepared for the week where we're supposed to run 40 miles. Whoa.
Today we knocked out a 6 mile run (see the route above or here online) pretty easily and even though I have a little faster pace than Stephanie, we have decided that we're both going to do this entire San Francisco Marathon (both training and the marathon itself) together. I'll tell you what, it's pretty awesome that I have an amazing fiancee' like Stephanie that enjoys fitness, being healthy and staying competitive. It really makes me happy to know that we're going to run this whole thing together and I have a feeling that this is just going to be just the first of many marathons and other races that we 're going to be running together. Yeah, that makes me really, really happy.
One of the highlights of the run today was that fact that a bird pooped on Stephanie's shoulder literally 2 blocks from where we started our run. She freaked out a little bit when it happened, but after mile 2 or so she was pretty cool with it. Hey, if we're going to be marathon runners we have to get used to being subjected to the elements, right? Even if the elements happen to be bird poo that lands on your shoulder.

If you see the bird that did this, please let us know
After we finished up running today we wanted to give a quick video update of our progress, which we are going to do at least once a week. Check out the video below or over here on YouTube to get the scoop. Also, if you've ever ran a marathon or plan on running one soon, feel free to leave us some tips in the comments below.
Recently Ryan and I have had our heart strings pulled a bit by a burning desire for missions. A man at our church a few Sundays ago shared some information about a ministry with which he is involved in South Africa. When he was done speaking, Ryan and I looked at each other at the same time with the, "Could this be a more perfect opportunity for us?" look. The sports ministry that the man was involved with is called Church Sports International. The ministry was started in 1992 with a motto that states, "Reaching your community and the world for Christ through sports"
As soon as we got home from church Ryan e-mailed the guy to get some more information and to see if there were some potential needs that we could help meet for the ministry.  The basic principle of the ministry is to create an educational and sports based program for students while incorporating Christ and the gospel.  These kids would never have the opportunity be a part of a sports program were it not for the efforts of this ministry.   The man who spoke at church told us that his wife is actually a pre-shool teacher at the school that they support in South Africa and he coaches basketball, tennis, and several other sports.  Both Ryan and myself feel that God has blessed us with some incredible attributes that we could use for this ministry.  It's an amazing opportunity to really use what we've been given to continue our pursuit of spreading the love of Christ.
It's just the beginning of something that might potentially be a completely new avenue to explore in our lives.  We're hoping and praying that there will be some way that we can work out something with the CSI ministry to help them in their efforts.  What are your thoughts on this grand adventure?  It's a BIG step out there… but when you feel led to do something…. why not follow it?
OK, so I actually didn't get hit by a car on my bike, but I really did run my bike full-speed into a curb today, which flipped me (and my backpack) over my handlebars. Why did I hit the curb, you ask? Great question. Well, I was simply trying to weave in and out of some random trees and I saw a branch coming straight for my face, so I ran off the sidewalk, straight into the curb. I was weaving in and out of the trees for no reason more than the fact that it's the type of thing that us guys do and some skinned elbows and knees are just a part a guy's life.
So, after I picked myself up, dusted off and checked out the damage on my bike I realized that my front tire was really jacked up and had a severely bent rim, which was probably to the fact that it was rammed directly into a curb. Yeah, that probably did it. But, it was still (barely)rideable and as I was wobbling my way home I figured that I might as well make the best of the situation and come up a story to tell Stephanie about what had happened. I didn't want to let my new road rash and bent bike rim go to waste, you know?
So, I did what any normal fiancee would do and I made up story and told Stephanie that I was hit by a car and that it was probably time to get a helmet. Of course I snuck in a camera so that you can hear her concern when I tell her I was hit by an oncoming aut0mobile. She freaks out a little bit, which can only mean that she really loves me, right?
Check out the video below or over here on YouTube — it's pretty funny.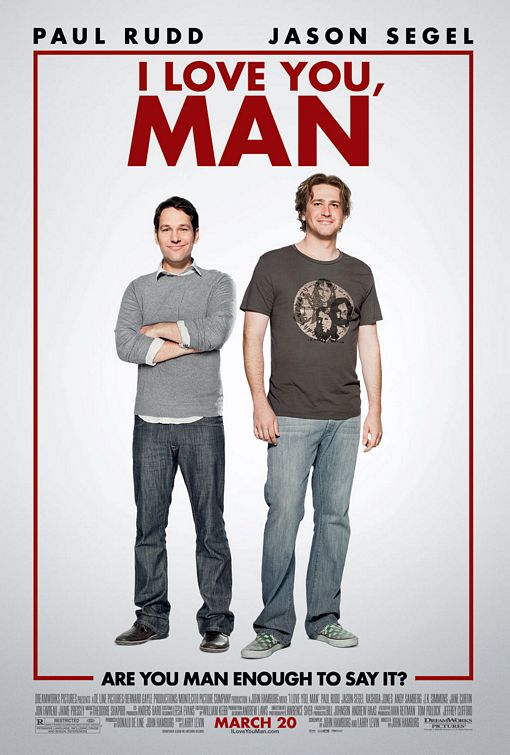 So although we unfortunately missed our "Wedding Wednesday" this week, I think we made up for it tonight by seeing a wedding themed movie, "I Love You, Man".  Ryan and I both really enjoyed this hilarious flick.  I am in NO WAY a movie critic and in fact I really don't enjoy reviewing movies, but my fiance is insisting that I post a blog right this instant, and nothing else is really coming to my mind so here you have it.  From a girl's perspective, the show offers all of the cute and funny girlie things that we like… the love story, the problem with the relationship that is mended in the end, and some funny guys to laugh at.  For the boys there is plenty of bromance and hilarity to keep them entertained.
I guess that's about all I have to say of it
  I told you, I'm no critic.  But hey, go see the movie.. you'll like it I'm sure!
Here's a trailer for you since I really didn't give much of a review.. I'll let them do the work for me.
and p.s. I will be posting many, many more blogs about my new little adorable fur-ball of a son, sweetie pumpkin cake puppy goodness, Frank really soon! In just one short month he will come home with us!! Ahhh I can't wait!
I left the office about 30 minutes early yesterday so that Stephanie and I could go visit the newest member of our family, Frank. As I made it home to our cottage and walked in the door, all of the lights were off and Stephanie was just sitting on the coach browsing Facebook. Unlike the giddy, over-the-top excited, "I'm about to go visit my baaaaby!!" Stephanie that I was expecting to greet me when I walked in, I was greeted by a very subtle "hey…" when I stepped foot into the dim-lit living room by a somewhat disappointed, "something isn't right here" Stephanie.
"Gabe didn't answer his phone and momma isn't happy that she can't go see her baby! (growl)", is the first thing she said when I shut the door and asked her why we were all of a sudden saving electricity by not turning on the lights. Gabe is the owner of Frank's momma, a Pug who had 6 beautiful puppies about 3 weeks ago, and he was supposed to let us stop by so that we could see what our baby was up to, but Stephanie couldn't get a hold of him. I think that she literally left him like 6 or 7 voicemails in a matter of 15 minutes. Needless to say, momma definitely wasn't happy.
But, Gabe did end up calling back and we took a family trip down to see Frank in San Jose around 9:30pm last night. It was the first time that I had seen Frank and Stephanie's first time to really see him now that he's up and moving around like a real dog. We hung out with Frank for an hour or so and got in some real solid bonding time. I took some video of the action, so feel free to see how Frank's doing, too. I think at this stage it's safe to say that Frank sounds like Gizmo the Gremlin, which I'm hoping he'll eventually grow out of.
p.s. Frank's the runt, but don't hold that against him. It just makes us love him that much more.
Last night Stephanie went out to dinner with a friend from her school in Palo Alto and I headed to a PayPal/Zong party that I was invited to by my friend Tamer Hassanein up in San Francisco with my surfing-addicted buddy, Nobu (he's awesome). The party was at a really cool night club called Vessel and since it was invite-only the bar was completely open all night and there were these girls that were doing laps around the place and they were carrying platters full of tasty steak and chicken on little, wooden sticks. Of course I didn't eat before I went, so it was a meat-on-a-stick dinner for me, which I was OK with.
As I was mingling at the party and making my way through the crowd of really, really good looking tech people, I did my normal, habitual quick glance at my Blackberry and more specifically my calendar. Now something that you need to know is that a couple of months ago I installed Google Sync, which wirelessly adds all of the stuff that I add to my Blackberry to my Google accounts (contacts, calendar items, etc.). Well, one of the cool things about this Google Sync is that Stephanie and I share our Google Calendars so that whenever she wants me to be somewhere or do something she can simply add it to her calendar, which adds it to my calendar, which adds it to my BackBerry. All of this happens instantly and it has really done wonders for keeping us both in the loop with all of the things we have scheduled. Yeah, we're nerds — but it works.
So, as I was looking at my calendar on my Blackberry a couple of new things stuck out right away. For some reason I had new items on my calendar that were labeled '3 Mile Run' and '6 Mile Run' and I wasn't really sure why. When I moved from my calendar to Twitter on my BlackBerry I quickly figured out what was going on thought — Stephanie had tweeted that we were officially running the San Francisco Marathon (which we just talked about for the first time last night) and she was starting to add our training schedule (that she got here) to her calendar, which then ended up on my calendar, which of course then ended up on my BlackBerry.

This is what I magically appeared on my calendar last night. Interesting..


Stephanie let the world know about our marathon plans via Twitter
With that fairly complicated explanation I guess that all I really wanted to tell you is that we're now officially running the San Francisco Marathon on Juy 26th and our training schedule begins today. Also, we're going to be asking for donations that will benefit the underserved youth in San Francisco, which we'll give you more details on soon.
As always, thanks for being awesome and we'll catch up soon.