It's getting late, I've packed and repacked after just getting back to San Francisco a couple of hours ago and I'm about to pass out at the keyboard. But, before I officially crashed, I had to say one more HUGE thanks to everyone who had anything to do with our wedding because it was the best day of both Stephanie's and my life and without all of you it wouldn't have been able to happen.
Thanks again for everything and we're headed off to Mexico (Riviera Maya) for a week of honeymoon awesomeness in about 4 hours, so we'll see you back online soon! We posted a video below to give you a quick update on what's going on.
Ok, so I knew that some people were getting a kick out of seeing Frank do his thing, but I had no idea that he was going to start attracting his own fans. Check out this awesome email that I just got today from a woman named Janet Ashby who has virtually adopted Frank as her dog, since her current landlord won't allow her to have one of her own. This, my friends, is why I love the Internet:
Dear Hup and Steph,

I LOVE the videos of Frank.  Frank is a ridiculously adorable dog.  I found your blog totally by accident (I think by following a Yelp restaurant review) but I now I am addicted to the tales of Frank . (Can you tell that I am a wanna-be dog owner with a landlord who doesn't allow pets? Someday….)

I wish you both the best on your upcoming nuptials and thanks for entertaining so many people with your blog.

Regards,
Janet Ashby
How sweet is that???
Hey Janet, if you're reading this feel free to give us a shout any time that you feel like it and if you would like us to give Frank a message from you, feel free to leave it in the comments. Who knows, we might just have to shoot a video of him saying hello back to you.
I'm not really sure if you think that these videos are quite as entertaining as I do, but I'm going to continue to post them as frequently as I possibly can. I'm not sure if most dogs are like this and Frank is the first dog that I've ever owned, but I swear that he does something hilarious every single day (if not more). One thing that I have learned pretty quickly is that Frank loves to chew on stuff. He's not too destructive when it comes to chewing things and most of what he ends up chewing on isn't anything of real value (which is a good thing), but man, he chews and chews and chews.
Here is a list of some of Frank's favorite things to chew on (in no particular order):
My shoes (he will chew on them even if they're on the floor for just a couple of seconds)
The frilly things on the end of blankets
Flaps on cardboard boxes (we think that he actually swallows the cardboard after he chews it — weird)
My fingers
Stephanie's hair
Turkey wrappers from Trader Joe's (one of his favorites)
Apple cores (he usually ends up eating the whole thing)
The armrests on my chair at work
His own paws (very odd)
His toys (if we're lucky)
So, with all of that being said, I guess that I should add a new one to this list — RSVP cards, which he tries to chew on until I eventually help him get a good grip on it (that's what dad's are for, right?). Check out the video below and if your dog chews up stuff, feel free to let me know what it prefers by leaving us a comment.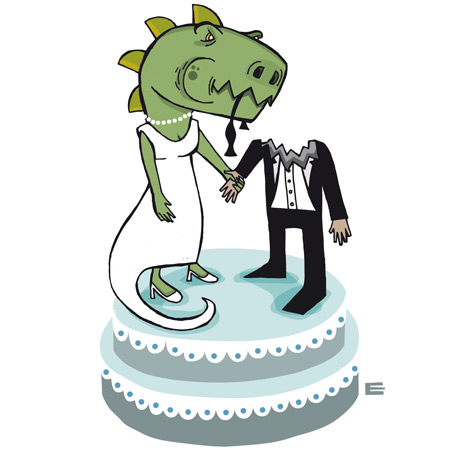 It's so hard to believe that in just 12 short days our wedding day will finally be here.  It seems like just yesterday Ryan proposed, and now here we are making all of the final preparations and plans.  The entire process, for the most part, has honestly been a breeze.  I've enjoyed every single moment of planning our wedding.  In the beginning we thought that planning a wedding that is 3500 miles away might pose to be a challenge, but luckily we have a crew of amazing family members and friends that have made the process go oh so smoothly.  I cannot thank you all enough.  Your help has been such an encouragement and obviously a necessary means to our wedding coming together the way that it has.
Planning a wedding is such a funny thing.  It can easily turn from a happy process to a critically mind wrenching, stress ball of fury within an instant
  For myself, it was all about my attitude.  Along the way there were several instances in which I very easily (and sometimes did) let the situation overcome my "cool as a cucumber" persona.   I had to learn to step back from the situation, allow myself to see why we're doing all of this in the first place, and trust that God was in control of the entire thing.. NOT ME! It wasn't until I did this that I truly felt peace about whatever came my way.  It's true that planning a wedding with your fiance' can become a true test of your relationship, and I know that throughout this process Ryan and I have only grown closer.  I guess you could say it's a final affirmation that this is the person you have been designed to be with, and nothing will change that.
I'm not sure if this post is as informative as I had hoped.  When I haven't blogged in a while I almost become so overwhelmed with the amount of information that I have to talk about, that I end up rambling without getting any point across.  This seems to be one of those nights, but at least I posted something and now my mind is more in "blog ready" mode! For the sake of time and space I'm going to update you all on what my "list" entails for the next two weeks.  It's a small glimpse into the hectic schedule awaiting Ryan and I as we embark upon the final days of our wedding planning extravaganza. So here you have it.. my list of "Must Do's"
1. contact church regarding final payment
2. buy an aisle runner
3. meet with Travis to discuss our awesome music for the reception
4. figure out what in the heck I'm going to do with 225  guests at the reception hall that only holds 200
5. create a time schedule to give to the bridal party for the "day of" happenings
6. find shoes for Ryan
7.make a list of things that I must take home for the wedding
8. realize I'm talking about making a list on my list
9. try to re-focus.. I'm not going crazy…
10. GET MARRIED!
Ok, I think a top 10 is good enough for now..  lets do this, shall we?!
If you have read and seen most of the things that I have written in the blog about Frank, you've probably noticed that he is of the most chilled out dogs that you've ever seen. Whether I'm dragging him to work, driving him somewhere in the car or just hanging out at home Frank doesn't usually cause too much trouble and he practically never barks…well, almost never.
Over the past few months I have noticed that Frank barks only at a few selective (and somewhat odd) times. Here are a few of those times that I've noticed:
At our roomate, Nic, and any other alpha male type of characters (especially when he wakes up)
At random shadows and inanimate objects that I'll never really understand
When he needs to go poop (sometimes he will bark and unfortunately sometimes he won't — gross)
At my co-worker, Ren, who torments Frank on a daily basis (see video below)
As you can see, Frank doesn't usually bark that much and when he does, it's pretty entertaining. To give you a good example of one of these situations I got some video of Ren getting Frank all exited and barking the other day while we were in the office. Check it out below when you get a chance.
One of the things that Stephanie misses most about not being in Indiana during their hot, humid Summer months is missing the ultimate in Hoosier hillbilly hi jinks, the Indiana State Fair. Out here in California I'm not even sure if they even have a state fair, but if they did I guarantee that it wouldn't be nearly as awesome of an event as what the good ol' State of Indiana can put together. It's definitely something that Stephanie wishes that she could go to and honestly, I guess that I wouldn't mind seeing a nice tractor pull or two if I had the chance.
One cool thing that you should know about the Indiana State Fair is that my brother Kyle is it's official chairman and although I have no idea what that actually means, I do know that it includes him making an important opening speech during the first day that the fair is open to the public. Well, this is the first year that Kyle has had a beautiful new baby to show off, so he decided to take advantage of the opportunity to show little Adah to the rest of the world by holding her while he opened up this year's state fair installment to the masses.
There  are a couple of cool things that happened as he held baby Adah during his speech:
He was able to show the world (well, at least Indiana) the new tomato-themed outfit that my mom hand made for Adah to wear for the occasion (they gave my mom a shout-out in the caption, see below). You can see the outfit over here in this photo that was taken after the speech. I also have posted it below for you to check out. The outfit is themed Red Gold because they're a very important Indiana-based company that is also a HUGE supporter of  the State Fair each year. If you ask me, it's about the best product plug that I've ever seen.
Adah was able to have her picture taken with this year's Miss America, Katie Stam (who is from Indiana and who went to my alma mater, The University of Indianapolis — Woot!). You can check out that photo over here on Indy Star, too.
Kyle's wife Jill, their son Ashton and my sister's daughter Madison also got some face time in the photos as well. You can see their photo as well over here on Indy Star.
Of course, others took notice of the fact that Kyle made the opening ceremonies a family affair. The Indy Star State Fair blog aptly named "Deep Fried Blog" had this to say about my big bro:
Red Gold is the big corporate sponsor of the fair this year, prompting state fair commission chairman Kyle Hupfer to take note of the many "tomato colored shirts" at the fair. Nothing is red, all is tomato – even the Red Gold bonnet on top of his baby, Adah, who he cradled during his remarks.
I think that it's pretty cool that my brother did this and that my mom turned into Martha Stewart and made Adah her cute, little outfit that caught everyone's attention. So, I guess that even though Stephanie and I couldn't make it to the fair this year, it's good to know that the rest of the Hupfer's were still able to make such an impact. Can I get a YEEEE HAW to that?
Here are some of the photos that I linked to above, as well as a bonus shot of this year's official Indiana State Fair fat-filled delicacy, chocolate covered bacon.
I was playing around with a Whoopee Cushion today after Stephanie and I got back from church and to my surprise, it seemed that Frank was practically scared to death of it. While most dog owners after learning such information might refrain from inflicting the big, bad Whoopee Cushion on their poor, little puppy I saw it as an opportunity to make Frank tougher (and to entertain myself in the process). If you check out the video below you'll quickly see that Frank wasn't just scared of the Whoopee Cushion, he was in an all-out attack mode whenever it got close to him. I'm not really sure why Frank would be so spooked by an inanimate object, but it might be one of the funniest things that I've ever seen him do. I think you'll agree.
Okay, okay, so I'll admit it — I like to brag about how awesome Frank is. I mean, he makes it really easy, so it's pretty hard to blame me. I feel just like a proud parent whenever he does something awesome and I don't think that there's anything wrong with that at all. But, I guess that if I'm going to be bragging about all of the stuff that he's great at, I should probably be telling you about the stuff that he's terrible at, too (not that there's that many, of course).
For example, I just found out yesterday that one of the things that he could probably use some work on is picking up pennies off of our office's hardwood floor. This might be a fairly easy feat for someone with opposable thumbs like you and me, but for a Pug that only has been given paws and a mouth to work with (or Edward Scissorhands), it's apparently not so easy. Check out Frank giving 110% below in the video, only to fail miserably at picking up the small, copper coin.
Getting married and putting together a wedding isn't easy, it's a lot more work than you would think — especially when you're doing from about 3,000 miles away. But, as we move closer and closer to the wedding date (only 23 more days!) I think that Stephanie and I are both starting to see a lot of the work finally pay off in a few different ways. One of the first ways is that we are both getting more and more excited as the RSVPs continue to roll in. We had about 12 people RSVP yesterday alone (the Bridezilla RSVP video seemed to get more people sending them in…) and just imagining all of these amazing peope in one place, all at the same time literally gives me goosebumps just thinking about it. Honestly it makes me a little nervous knowing that everyone is flying in and what-not just for our wedding, but hey — it's going to be an amazing time, so I know it will definitely be worth it for everyone.
So, even though seeing the RSVPs coming in is pretty exciting, it isn't even in the same ballpark as the awesomeness of seeing our wedding gifts starting to show up. Each day we come home and go check out our lobby like little, giddy kids on Christmas morning who are going to see if there are any new presents under the tree. Here the last few days we have seen a few new wedding gifts come in from our registries that we set up at Target and Bed, Bath and Beyond and honestly, we can't get enough of it. I think that one thing that this wedding has really shown us both us how amazingly blessed we are to have such amazing friends and family who really care a lot about us. Seeing the notes, emails and gifts come in have really reinforced this to us and if you're reading this right now and have sent us a gift (or are planning to), we want to personally thank you for being so freakin' amazing that it hurts.
Just to show how happy getting these gifts and letters make us, we decided to take a picture and show you. As you can see, Frank and Stephanie are very happy that my uncle Fred and aunt Bestsy got us a sweet, new KitchenAid mixer. I'm not even sure what the thing can be used for honestly, but Stephanie was practically doing back flips when she realized what was in the FedEx box.

Do they look excited, or what??? (Frank was a little confused)
You guys rock, thanks for reading and only 23 more days until the BIG day!
Now that we've had Frank (aka the amazing little ball of awesome dog joy and happiness) for a couple of months now I guess that it's about time to show off some of the sweet tricks that I've been teaching him. Well, since I didn't really have any of those, I figured that the next best thing was just to show something that could potentially be viewed as a trick. If nothing else this at least shows a little bit of obedience on his end, even though I have had to give him like 170 treats to get him to come to me on command. You can even tell that he was expecting a treat after he ran up to me, but hey — it's the end result that counts and I think it's pretty cool.
Take a look at the video below and let me know what you think. Smart little guy, isn't he?