Before I start this week's church thoughts to chew on, I wanted to say that Stephanie and I have gotten some great response from several people since we decided to start posting these weekly recaps. For us these posts are a great way to reflect, absorb and share the message that we hear each week during church and we're super excited to get feedback that lets us know that some of you out there have actually been paying attention as well. Our goal isn't to to shove our thoughts and beliefs down your throats, it's to give you all an insider's look into what we're experiencing each week in a Christian worship setting and to give you some of our thoughts on how it all translates to us personally. As always, thanks for reading and if you have any comments or questions for us, please be sure to comment on any post or shoot us an email (you can contact us by clicking on the links under the 'Stalk Hup and Steph' to right).
With all of that being said, the main focus of the message at church today was redemption, which to me is a word that is often used in religious settings, but rarely explained. If you Googled the word redemption, you'd quickly see that it has a lot to do with being freed or rescued from a harmful situation. Today during service, redemption was specifically defined as: to be liberated, freed, or rescued from bondage and slavery to a person or being and it was the foundation of a fantastic message that explained and outlined the redemption that Jesus gave each and every human being by giving up his life on the cross. Yeah, you could say that redemption is pretty awesome. Read on to find out why.
To better understand redemption, we went over two different prototypes: Exodus Prototype and Cultural Prototype, as well as Bible verses that supported each.
Exodus Prototype: This type of redemption is focused on a freeing or release from something that is harmful to us or enslaving us. For example, in the Bible passage below the Israelites were redeemed from being slaves to the Egyptians, but this type of redemption could easily be from something more relevant to our everyday lives, such as being a slave to alcohol, pornography, sexual temptation or any other unhealthy or sinful behavior.
Exodus 6:6 – "Therefore, say to the Israelites: 'I am the LORD, and I will bring you out from under the yoke of the Egyptians. I will free you from being slaves to them, and I will redeem you with an outstretched arm and with mighty acts of judgment.
Cultural Prototype: The idea of redemption has become a major theme in today's pop culture, which can easily be seen by flipping on your TV on practically any night of the week. Are you in a situation where you severely need some redemption for your home? Well, then MOVE THAT BUS!!, because all you need to do is contact Ty over at Extreme Makeover: Home Edition and your redemption will be granted through the building of a brand new, top of the line home with all of the furnishings. Need your wardrobe redeemed? The show What Not To Wear can help you out with that redemption, too. Need to be redeemed from a drug or alcohol addition? The guys over at Intervention would be more than happy to help you with with that, too. Everywhere you look there are people looking for a new beginning, a fresh start and a release from the hardships and struggles that they are dealing with and it's selling better than ever before because true redemption is an incredibly powerful thing to watch.
Mark 10:45 – For even the Son of Man did not come to be served, but to serve, and to give his life as a ransom for many.
Now that we've all got a good grasp on redemption, it's  time to dig into how Jesus plays into all of this.
How Did Jesus Redeem Us?
– Jesus redeemed each and every one of us by willingly dying on the cross for us.
– God paid our ransom through the death of his son, Jesus Christ, and through that gave us all the opportunity to be redeemed from our sins.
How Do We Receive This Great Gift?
– Receiving the gift of redemption is free and simple, but not easy.
– Redemption requires humility, which basically means that you need to realize that you don't have the power to overcome sin on your own, and we are ultimately undeserving of such love and forgiveness due to our sin nature.
– The first and most important thing that you need to do is to confess to God for forgiveness and then confess to others to start your healing process.
What I got most out of this message is that no one has done too much or gone too far in God's eyes — there's always a way to get redemption and be freed from the things that you are a slave to. But, it's not going to happen automatically and it's not easy, although it's very straight forward from God's point of view. If you ask Jesus to come into your life and realize that you can't overcome the temptation of sin on your own, you will be given the gift of redemption and that, my friends, is an amazing sense of freedom that only God can give.
—–
If you've read through this and you're questioning how exactly you can receive God's free gift of grace and forgiveness and are ready to make that commitment, then please read on!  There is no "magic prayer" or exact wording that you need to pray.  It's as simple as admitting to God that you are a sinner, and there is nothing that you will ever be able to do to merit forgiveness.  Believe that Christ, God's son, came to earth to die on the cross and take our sin upon Himself.  Believe that He rose again on the 3rd day, and is alive today.  Dedicate your life to God and invite His spirit into your life.
If you have dedicated your life to Christ after reading this, then please don't stay silent.  Contact us or someone that you feel comfortable with and tell them!  It's a long road ahead but it's a wonderful one, filled with hope, love, and new beginnings.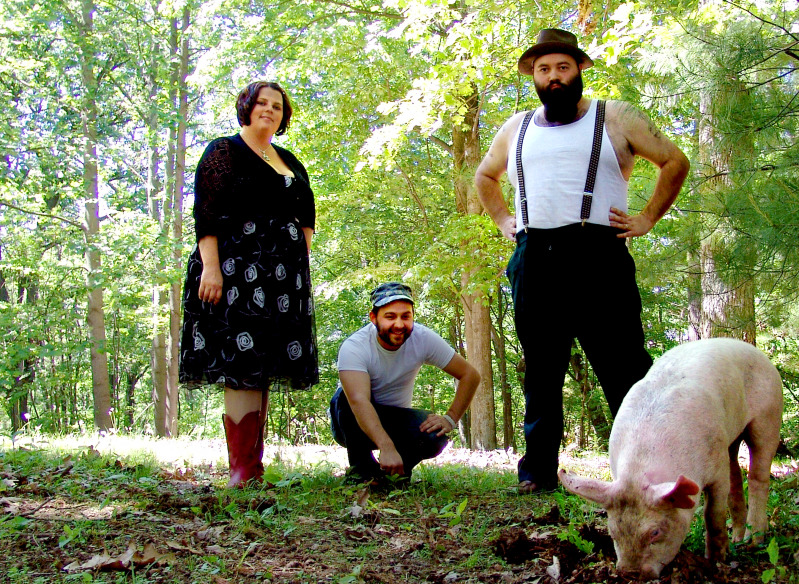 If you've followed our blog for awhile you'll be sure to recognize this band from previous posts. Our friends, from the Rev Peyton's Big Damn Band are out touring around the country,and this Thursday night (1/21) they're going to be gracing us with their presence in San Francisco.  Like we've said before, these guys really know how to put on a good show and bring the house down with their blue grass/I don't know what kind of genre that's awesome enough to describe,  kind of music.
They're playing at The Bottom of the Hill on Thursday night so MARK YOUR CALENDARS!  The show starts at 8:30pm with the Rev and his crew kicking things off at 11pm.  If you're in the city and wanna grab some delicious grub beforehand, feel free to stop by the SOMA shack and enjoy some of the culinary wonders of our good friend, Bobbby.  He'll be whipping up something fantastic, I'm sure.
We found a recent write up of the Rev, here that I think really gives  a great glimpse into what kind of emotional overload of awesomeness you'll experience at one of their concerts.  So if you're looking for a different kind of appeal within the music scene in this city, come on out and support the Rev Thursday night!  You can find us jumping around like maniacs in the front row
It's been a while since we've posting some of our church thoughts and we're happy to get started on getting them out to all of you on a weekly basis. It's no excuse, really, but the holidays threw us off a bit, but we promise that you'll be seeing them on every week from here on out. Of course, you still need to keep us in check so we don't slack off and as always, please be sure to leave any comments/questions that you have in the comment section below.
This week is all about God's grace and love.To kick off this post, here is a great passage from Romans (Romans 3:22-26) that talks about how we all have sinned and there is nothing that we could ever do to earn God's forgiveness, but through faith in Jesus Christ and His grace we can all freely accept His gift of love and forgiveness.
This righteousness from God comes through faith in Jesus Christ to all who believe. There is no difference, for all have sinned and fall short of the glory of God, and are justified freely by his grace through the redemption that came by Christ Jesus. God presented him as a sacrifice of atonement, through faith in his blood. He did this to demonstrate his justice, because in his forbearance he had left the sins committed beforehand unpunished— he did it to demonstrate his justice at the present time, so as to be just and the one who justifies those who have faith in Jesus.
To fully understand God's grace and love we all need to first have an accurate picture of who God actually is:
– God is King: God is our Lord, our Savior and our King and all things that we do for/against others we do for Him.
– God is Judge: Motives, not just actions are judged by God. He is a very justified judge and we will all be judged by Him.
James 2:10 – for the person who keeps all laws except one is just as guilty as one who breaks them all.

Proverbs 17:15 – acquitting the guilty and condeming the innocent — both are detestable to the lord.
– God is Compassionate Father: God wants to forgive, not condemn.
Now that we have an accurate picture of God, we can now look at how He justifies His grace and love for us:

– By Grace Alone (Romans 5:16-17) — You can not pay off your sins, they can only be forgiven through God's grace (that was paid through Jesus, His son, on the cross)
– Through Faith Alone (Romans 5:1) — You can not earn God's forgiveness. The good works that we all do (things that we think God will love us for) don't earn us grace, they should only be the result of our overabundance of faith. Jesus paid the penalty of our sin so that we can experience this grace.

– Because of Jesus Christ Alone (Galations 2:15-16) — None of us are justified by only observing the law, but by Faith in Jesus Christ. It doesn't matter what you do, it's all about your faith.
To quickly summarize, here are some things that we took from this week's message:
You can't earn God's grace and love by 'doing stuff' that you think He would want you to do
God not only judges you by your actions, but also by your motives. There will be no secrets withheld from Him during your judgment.
Eternal life in heaven is not reserved for good people, but people who have faith and believe in Jesus Christ, the son of God, and that He took our sin upon Himself on the cross.
Thanks for listening and please leave comments if you feel like chatting!
—–
If you've read through this and you're questioning how exactly you accept God's free gift of grace and forgiveness and are ready to make that commitment, then please read on!  There is no "magic prayer" or exact wording that you need to pray.  It's as simple as admitting to God that you are a sinner, and there is nothing that you will ever be able to do to merit forgiveness.  Believe that Christ, God's son, came to earth to die on the cross and take our sin upon Himself.  Believe that He rose again on the 3rd day, and is alive today.  Dedicate your life to God and invite His spirit into your life.
If you have dedicated your life to Christ after reading this, then please don't stay silent.  Contact us or someone that you feel comfortable with and tell them!  It's a long road ahead but it's a wonderful one, filled with hope, love, and new beginnings.
A friend of mine from high school recently entered a contest to become the most interesting patient in the world.  The Austin Dental Spa in Austin, Texas instituted a contest in which dental patient enthusiasts created videos to prove why they are deserving of a smile makeover.  The grand prize winner will receive a complete smile makeover up to $15,000… That is quite a prize if you ask me!
My friend Brian, in hopes of becoming the smile superstar, composed quite the lyrical ballad, and I've gotta say that he did an amazing job.  He did so well, in fact, that he is one of 4 finalists.  Currently he is ranked in 2nd place, so all that he needs is a few more votes to place as number one.  Check out his video as well as the other 4 finalists here on the voting page. Can you help a brother out and send a little vote or two his way?!  I think he'd be VERY appreciative.
If you missed it before, GO HERE TO VOTE FOR BRIAN!!!!
Good luck, buddy! Hope to see you smiling big, real soon!
You can watch the video below, but make sure you go to the voting page to vote!

I'm not one to complain about stuff very often, but I feel like I need to call out Taco Bell for something that I noticed after eating there last night. As many of you Taco Bell fans out there have probably noticed before, there are always hilarious and sometimes odd sayings on all of the mild, hot and fire sauce packages. These sayings, which are officially called "Saucy Sayings", came into existence in 2004 and have been adding a little bit of extra entertainment to the lives of Taco Bell customers ever since.You can read a list of these sayings over here.
I snapped a pic of what one of these Saucy Sayings look like and posted it below:
Now, fast forward to today. I'm not sure if you've seen the commercials yet, but Taco Bell is promoting a new Drive-Thru Diet that is very similar to what Subway has been doing for the past few years. There's a chick named Christine who lost over 50 lbs after eating Fresco style tacos, so now Taco Bell's basically turning her into their version of Subway Jared. Yep, it's true — Taco Bell has gone healthy. Crazy, I know.
So, what do the Saucy Sayings and the new Drive-Thru Diet campaign have in common, you ask?
After looking at all of the different types of sauces last night at Taco Bell expecting to read some of the funny Saucy Sayings that I've become so used to seeing, I noticed that they had bastardized their once quirky idea by replacing the Saucy Saying with a simple, distasteful URL: drivethrudiet.com (see pic below).
I wonder which marketing person thought that this would be a good idea? I can hear 'em now, "I know how we can get the word out about our new Drive-Thru Diet, we can replace the Saucy Sayings that everyone loves with the URL. That will get us all kinds of exposure!".
It's a sad, sad day in the world of marketing my friends. I'm just hoping that it doesn't last very long.
One of the most obvious benefits of living in the Bay Area is the beautiful beaches. Duh, that's pretty much a no-brainer and although Stephanie and I probably don't take advantage of this fact as much as we should, we have definitely spent our fair share of time in the sand.
But, this past weekend was the first time that we've ever been to Fort Funston, which is one of San Francisco's only dog beaches. I call it a 'dog beach' because unlike most beaches where you can walk around your 4-legged friend only if they're on a leash, this beach allows them to run around as free as the day they were born. This, paired with the fact that beach is ridiculously beautiful, results in a beach that is literally covered up with dogs and the humans that happen to bring them there.
We had a lot of fun taking Frank there and even though he got stuck in the sand after the tide caught him (and myself) off guard (which really freaked out Stephanie), I'm sure he'd be more than happy to make another trip back there anytime we're willing to take him.
Check out the video of our day at Fort Funston below or over here on YouTube and also be sure to take a look at the shots of Frank that I snapped at the beach. Just when you thought that the little sausage link couldn't get any cuter….geez.
If you didn't know by now, I started a new job at isocket about a month ago and one of my new responsibilities is to make all of the awesome, new people we're hiring feel as comfortable as possible once they make their way into our office.
Well, for some reason I thought that a good way to do that for our new intern Vinoth was to make him arm wrestle our CEO. I know it sounds a little odd, but I swear that for some reason it all made sense at the time.
Check out the video of the arm wrestling intern below or over here on YouTube.
Our roommate Nic (facebook) really outdid himself with this Christmas photo that he worked his magic on. It's the final (and best) photo in a 3-part series that was aimed at adding a little more 'flavor' to the Santa Claus of old by suggesting new ways that he could become more awesome this year.
This photo in particular took him an entire night to set up. You can't really tell, but the stuffed animals are hung from his ceiling with fishing line, he's holding on tosome ribbon that he bought and he's riding on his bed whose blankets are rolled up to look like bags of presents. Amazing.
Just when you thought that it couldn't get any better, here's the caption that he added to the photo:
DEAR SANTA

I HAV SUM IDEAHS FOR YOU TOO MAKE YOU AWSOME IN TWENTY ONE SENTUREE USA

3. RAINDEER = OUT!

BIG DOGS AND LITLE PONEYS = IN!
Yep, this is why we love our roomie.
It's been about 10 years since I had been ice skating, so we felt like it was about time to give it shot. The video was taken at Pan Am Plaza in Indianapolis, IN and man, did it end being a lot of fun. Some of our friends and family came along with us, too which made it even more entertaining (as you'll see).
Check out the video below or over here on YouTube when you get a chance and here's to the beginning of an amazing 2010! Stephanie and I (and Frank as long as he can still fit on the plane) head back to San Francisco tomorrow, but it's been so great to see all of our friends and family the past month while we've been home. We're extremely blessed to have all of the amazing people that we have in our lives and we can't wait to see you all again!